Rujada Campground
Cottage Grove, Oregon
May 28-30, 2010
The rain stopped just long enough this Memorial Day weekend for us to start the camping season at nearby Rujada Campground. Less than an hour from Eugene, this 15-site, first-come campground is on Laynge Creek, near Cottage Grove.
We got there early Friday evening and found a nice private site, but Saturday morning I found a spacious site I liked better. While Kate was still sleeping I quickly packed up. She was just coming to when I hauled her in the teardrop to the new spot.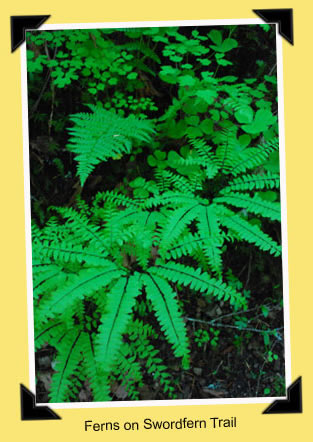 This was a nice little close-to-home getaway.
To get to Rujada Campground, take Row River Road east from Cottage Grove for 19 miles, then turn left on Laynge Creek Road. The campground is on the right after two miles. The drive is very pastoral, through farmland and along Dorena Reservoir, although much of the country housing is, well, let's just say less-than-picturesque.
Further up Row River Road (if you don't take the turn-off) is Brice Creek, also part of the Umpqua National Forest. There are lots of great trails there that we want to explore next time, as well as three other more rustic campgrounds.

After breakfast on Saturday, we went for a drive and explored the area a bit. Stopped at our friends' coffee drive-through (Rally) in town. Bailey went for a swim in Dorena Lake. Got some countryside photos. After lunch, we hiked the lush Swordfern Trail.
For dinner, our neighbor Kathleen with her granddaugther, Maddie, joined us. It was Maddie's first "wilderness experience," and she loved it. She thought the teardrop was the best playhouse ever, and it was hard to tear her away. Maybe they'll join us overnight next time.