Teardrop Repairs

Our teardrop did have some trouble with leakage. When it rained hard, water would get into the galley, then through the back wall onto the bed. Grant Whipp at www.LilBear.teardrops.net clued us in that our galley hinge was cut too short. It needs to hang over 3/4 of the inch on each side to keep water from leaking in. We ordered a new hinge from Grant (perfect size, and here in two days).

We contacted Cozy Cruiser in Oakridge, Oregon for help replacing the hinge, and they put us in touch with a local teardrop builder, Larry Boehme of Larry's Tears.

Larry has hand-built 17 teardrop trailers. A retired machine shop teacher, Larry has a mechanical mind, a craftsman's skills, and a shop to die for.

I drove our teardrop out to his place one afternoon and he assessed what was needed and gave me a list of materials to buy. The next week we spent the better part of a day working together (me as unskilled assistant) replacing the hinge, side rails, and seals.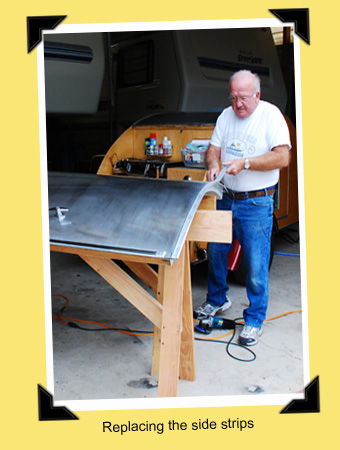 I had a great time working with Larry. And his wife, Zelma, even brought lunch out to the shop for us. Thank you, Larry!
Larry's now working on his last and ultimate trailer. It's amazing (and not for sale).
Like a trailer from The Jetson's, it's equipped with pressurized mechanics that perform conversions at the push of a button. Pshsht: the bed converts to a table. Pshsht: the galley opens. Pshsht: cabinets open to reveal a microwave and a toaster. Pshsht: the rear bumper slides out for attaching the round table and stools.
But the best part is the craftsmanship. Larry's beautiful woodworking is showcased with this trailer. He promises it will be done in time for the antique car and trailer show at Valley River Center (in Eugene) on Father's Day 2009. And it will be pulled by his beautifully restored 1940s Cadillac.
Check out a preview here!